-Aztec ruins,  National Monument.
After ample breakfast we aimed right into ruins close by in town named, well, Aztec. They were not build by that tribe, the name is misleading. The original builders were  Ancestral Puebloans. The buildings date from 11th to 13th centuries!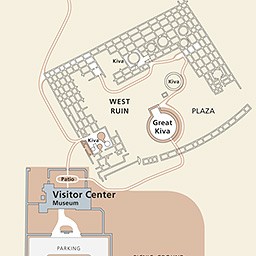 "Explore the ancestral Pueblo "Great House" that was the social, economic, and political center of the region after Chaco. A self-guided half-mile walk winds through original rooms. Along the way discover skillful stone masonry, remarkably well-preserved wood roofing, and original mortar in some walls. Enter the ceremonial Great Kiva. This awesome semi-subterranean structure, over 40 feet in diameter, is the oldest and largest reconstructed building of its kind." National Parks Services map and info.
A first question a Finn has, what is KIVA? It is  a chamber built wholly or partly underground, used by male Pueblo Indians for religious rites. You lower down on a ladder, entering large open room, which originally had a roof over it. In this site it was reconstructed. The building was huge! Dark with earthen floor. Holy, no photos allowed. The answer to an English speaking person, KIVA is a Finnish word meaning NICE. Isn't it nice! Below web photo of the reconstructed interior:
Here in Aztec the grounds were compact easy to explore alone with the brochure. Most interesting in the buildings were the many rooms, one leading into another, deeper inside the building. Even five in a row. See map.
Smaller kivas were found also on site. One of the rooms had original shade in the window! It was made I believe of grass or reed in one of the inside rooms. The air is dry and that naturally conserves wood and pottery and so on. Several mounds were on the site also, hiding more buildings. That also was preserving them from wear and tear and the ruins can be dug up for further studying and then to be closed again..
Aromatic sage bushes were on the perimeter and a river ran on the site. It obviously was a desired location for living!